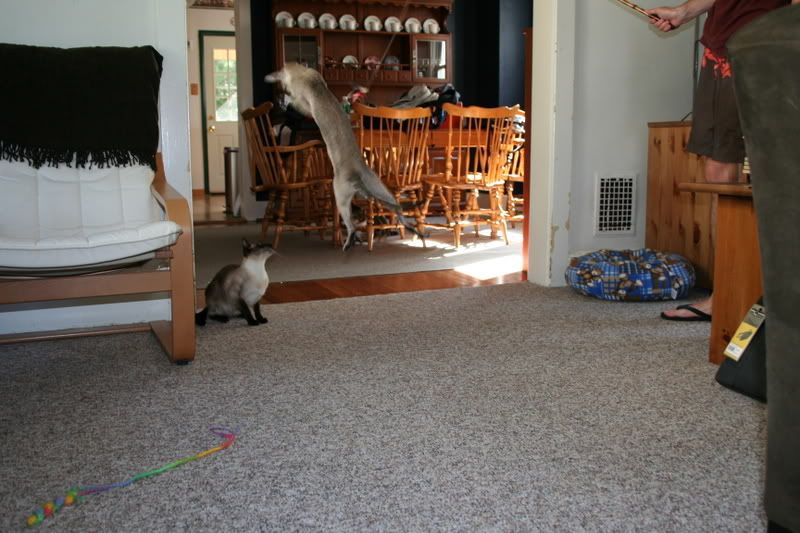 But you probably already knew that...

I'm sure you're all wondering about Snap and she's doing very well. The LL rode her yesterday and she gave her attitude but when she gave attitude the LL gave her a tap and found out that Snap is feeling better as she ran around like crazy and tried to buck the LL off.

She has "laminitis" which is where the horse's hoof's insides get swollen and then their bones inside can rotate (but her's haven't). When their bones rotate they can get dead tissue in there and it can make things VERY painful. Its like if the bones in your paw came through your pads and you were walking right on them. It's pretty complicated and the LL is still trying to figure out WHY this is happening to Snap. Usually horses who are overweight or over eat (like get into a bag of grain) but the best the LL can come up with is that her horse shoes are hurting her and the farrier (the man who puts the shoes on) needs to seriously WATCH HIMSELF before the LL kicks his butt (she scares me sometimes!). But for the rest of the week the LL has to be at the barn cold hosing Snap's hooves and soaking them in epsom salts. Snap loves it, she thinks she's at the spa. Thanks for everyone's concern, it means a lot to us.

The LL's been so upset I decided to give her a massage with my paws on her underarms. I've never actually "kneaded dough" before so it made the LL smile. I enjoyed kneading a lot, it felt nice on my paws. I really like digging my claws into her soft skin. That felt great!! I can't believe I hadn't found this tactic for getting attention. I even got alone time in the snuggle room!