Dragonheart's Contest

Question #1
When I think of Sphynx, the first thing that comes to mind is my very dear friend Dragonheart. I think of how cute and sweet he is and how horrible it is for some people to call Sphynx cats bad names just because they don't understand things. I myself get called names because of my appearance with my large ears, skinny body, pointy snout, and my other elements that make me a beautiful Oriental Shorthair. So when I think "Sphynx" I always associate the name with a good thing- a warm summer peach. Now you wouldn't think New Jersey has great peaches but we actually do! Some of the best around in fact. There is a peach orchard that the Lap Lady passes every day and right now the peaches are just coming into season. Driving by she always thinks of how soft and warm little Drake would feel to hug.





Question #2
HairNSkin Dragonheart= Dragonheart aka Drake or Drago
Champion HairNSkin Obi Wan Kenobi= Obi
Taj Mahal Sherazade of HairNSkin
HairNSkin Merlin= Merlin
HairNSkin From Dusk Till Dawn = Dawn


Question #3
Saturday 11/25/2006
Saturday 11/25/2006
Tuesday 11/28/06

Question #4
Mr. Bigglesworth was played by SGC Belfry Ted Nude-gent
"Love Mooch" aka Sphynx

Question #5
HairNSkin Dragonheart- Black & White tuxedo
Taj Mahal Sherazade- Blue Point Sphynx
HairNSkin Obi Wan Kenobi- Brown Classic Tabby & White Sphynx

The only allowable outcross breeds in the CFA are now the American Shorthair and Domestic Shorthair. In Europe mainly Devon Rex has been used for outcrosses.

Question #6
Fairy Tales- Dragonheart
Around the World- Sidney Dundee
Star Wars Cats- Yoda
Action MOvies- Basic Instinct

Question #7(this was tough!)
Cat- die Katze
Kitten- der Kitten
Cat Food- die Katzenahrung
Cat Litter- die Katzesänfte
Litterbox- der Sänftekasten
Scratching Post- der verkratzende Pfosten
Catnip- die Katzenminze
Cat Snacks- die Katzeimbisse

Question #8 (Provide a Caption)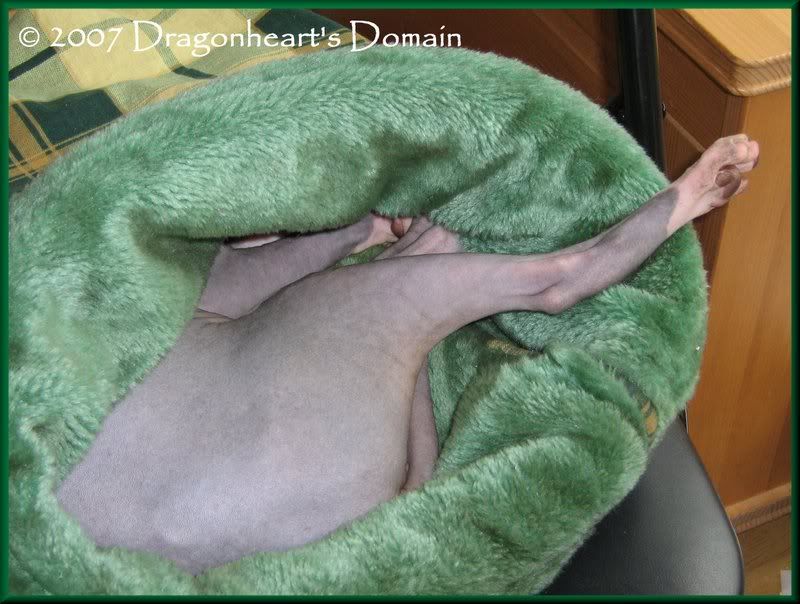 "Look, I'm far too tired to take my weekly bath now but if you want to sponge off my foot, have at it."