I figured I'd give you a tour of perhaps the most important room in our house: the kitchen. We cats spend lots of time in this room as it really fulfills all of our needs.

Lets start with the eating area. You will notice we have our own corner complete with crunchies and water. It is off to the side and quite peaceful and enjoyable. There is a little that our food bowls sit on so that when we crunch our crunchies they don't get all over the floor.



I feel I should test the water as you never know if it is fresh enough. We get special water from the fridge. People laugh because it is an Evian bottle but it is just tap water mixed with Oxyfresh to keep our teeth nice and clean. To my right you will see our food containers. Both are hard plastic so we can't chew holes. Chase used to eat Iams but now that container holds our Innova Evo. We also get a little bit of Purina Pro Plan Indoor to help with someone (Chase!) who stinks.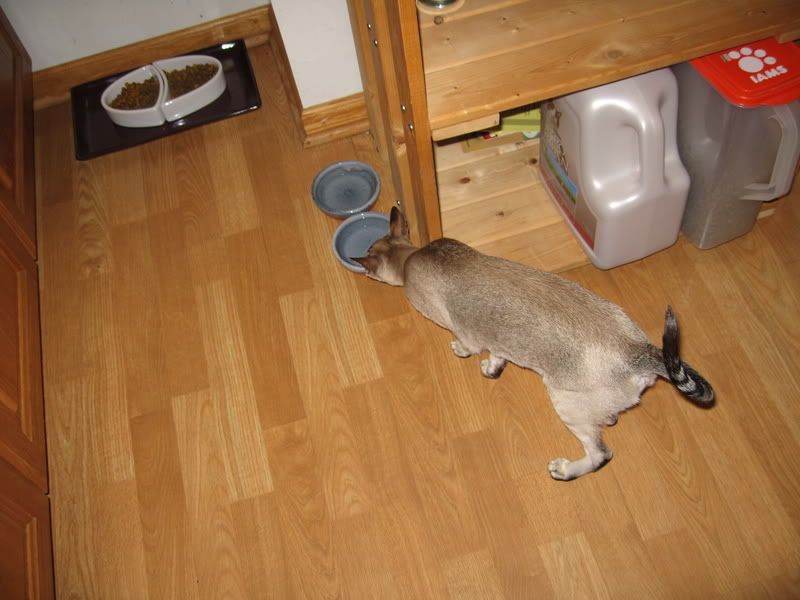 Now we will just turn to our right and make the walk past the trash can, recycling, and in front of the fridge where we meet Chase enjoying the cool Pergo floor. He likes to stretch out and just chill quite a bit.



We will conclude our tour as we go past the fridge. and next to the microwave stand. To my left is the door to the dungeon where all of the laundry lives and the Tall Man goes to lift weights. Obviously you will notice the primary commode for us cats. It is large enough to fit Chase and is highly convenient. We have another commode upstairs but it is smaller and not used all that much. Should you want to watch some squirrels on the back deck you could jump up on the kitchen table to my right (not shown).




Thus concludes our floor tour of the kitchen. Now I suggest we go beg at the toy closet for the Whirly-Bird. Just an idea...