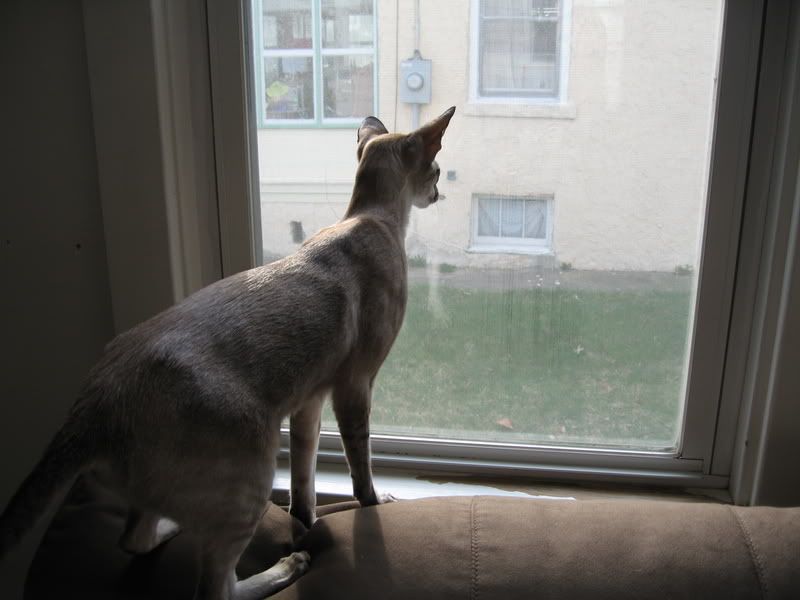 Thirteen Things outside the side window!
1. Birdies! They hang out in the holly trees on the property line.
2. Squirrels! They torture us outside the window. I swear, they stand up on their hind legs and chitter at us.
3. The neighbor's tiny little dog. I hate Cookie. Loath....
4. The grey machine drives past as it goes down the driveway. That is how I know to go wait at the back door for the Lap Lady to come inside.
5. The mail man. he walks from the neighbor's door right to ours.
6. The meter readers who check the neighbor's meters. I like the Water Man, not the PSE&G man (gas & electric).
7. Strange cats like to hang out under our front porch. We have this one cat who doesn't have a tail. He likes to hang out under the grey machine sometimes when it isn't in the garage.
8. The Lap Lady & Tall Man along with trash barrels. They drag the trash can past the window. They used to roll it but the trash men broke off the wheels (really, the Lap Lady watched them!).
9. The snow throwing machine when its all white outside. The Tall Man works it but usually right outside the window the Lap Lady has to use the shovel because there are two narrow strips of cement that the grey machine drives on.
10. The cat stroller when Latte & Chase go for a stroll. I don't like strolling but I like watching where they are going.
11. Its rare, but sometimes the mythical Black Machine leaves the driveway and the Tall Man goes for a drive. This is REALLY rare.
12. The long green snake thing. It attaches to the house under the window and then it moves around and sprays water! Usually at the grey machine. If I were they grey machine I would put the bitey on the green snake!
13. At night you can watch the neighbors in their kitchen. If the window is open you can smell the stinky smoke from the neighbor man. It is yucky and we always close the window when that happens.