Since last week was all about the Lap Lady I figured I'd share 13 things about the Tall Man.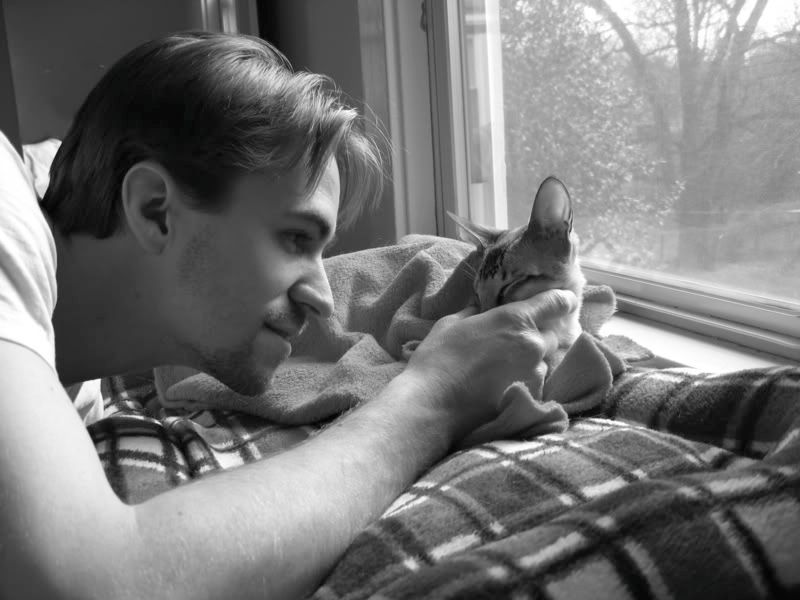 1. He is almost 27 years old.
2. He was born and raised in New Jersey and that's where we live. We can see his first house from our back deck!
3. He is a computer and electronics genius. There has never been a computer he couldn't fix and he has a big network of servers at the office.
4. He never finished college, he went for a year and a half and started working instead.
5. He is really really tall. He is 6'4". Sitting on his shoulders is great!
6. He really loves power generation and wishes he could work in a Nuclear Power Plant.
7. He is a great people person and talker. He can convince anyone of anything and he is 99% right most of the time.
8. He loves diesel cars. He has a car that just sits in the garage and he only drives it if its not raining.
9. He should be an honorary NYC driver as he has "mad skills" from commuting from MA to NJ every other weekend while the Lap Lady was still in High School.
10. When they lived in Massachusetts he drove an hour and a half each way to work so the Lap Lady could be close to school. He did that for 4 years and also completely financially supported her.
11. He loves gadgets and always has the newest best cell phone. In fact he carries two cell phones with him most of the time.
12. He has an older sister and a really younger sister who was adopted from China. He and the younger sister share the same birthday!
13. He walks around town all of the time. He loves to be outside sniffing the fresh air.

Oh, and as a bonus....whenever he says "Kah-zee-zee" I run out of the room. I just don't like the way he says it I guess.