Do you think you know me pretty well? Go to the Meezer Gang and see if you can tell me apart from my good friends Nicky & Kaia! Its pretty hard!The Meezer Gang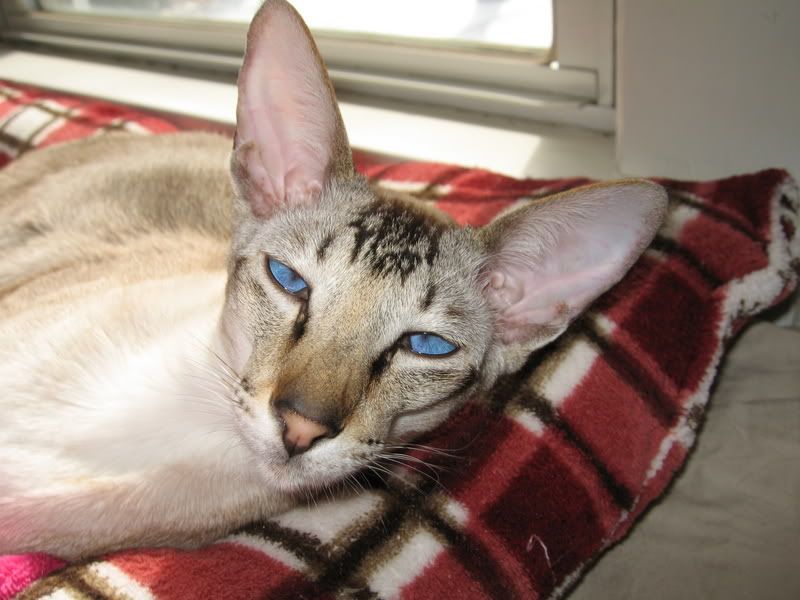 What a week and the weekend is looking even more busy! Last night there was lots of crashing and banging and vacuuming and stuff. I guess The Lap Lady & Tall Man were getting ready for the visitors this weekend. Apparently the woman coming to stay with us really likes cats. I hope she likes me! The man asked if the Lap Lady had any "needy cats" and I'm worried he won't like me. But I'm friendly! I just want to be played with and pet and loved and stuff. Do you think they will like me or think I'm weird because of my big hears?

I've been tagged!!

1. I need a reason to have more pictures of myself. Before blogging the Lap Lady never had her camera around.

2. I like designing my own page and decorating it with links and badges and buttons.

3. I have met the bestest friends and I love seeing pictures and hearing stories of so many different cats.

4. OK, without helping me blog the Lap Lady would be bored stiff at work all day long.

5. It gives me a reason to sit in the Lap Lady's lap at night when she's helping me blog. Not that I need a reason, its just nice to use the computer now and then.

I have no idea who has or has not been tagged yet....so if you haven't leave me a comment and consider yourself tagged!