Last night I was able to interest the Tall Man in a game of fetch. He didn't think I'd fetch if he threw it down the stairs but he was wrong. I figured that since I'm a grand champion I'd give you all a few hints.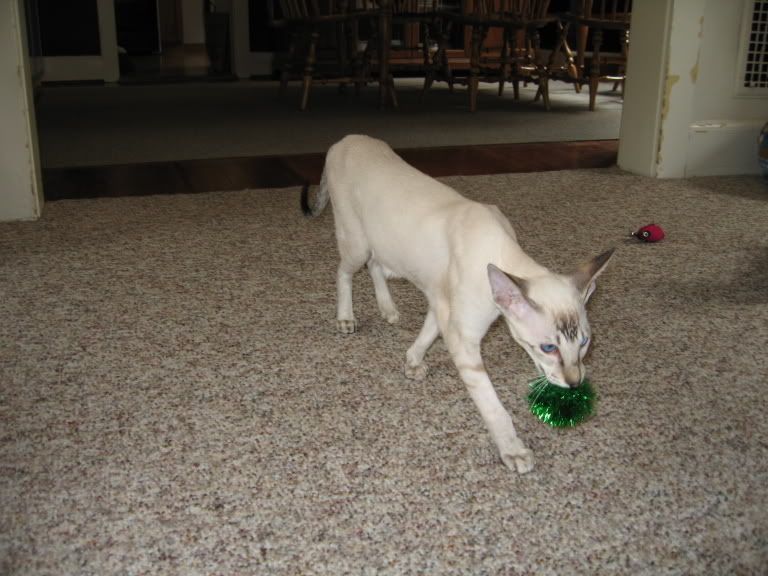 Fetching is a very serious sport and to be at the top of your game you need constant challenges. Its a rough and tumble sport that takes a lot of commitment. First of all, you must be committed to the sparkle ball at all costs. If this means you like a particular color, then you should make sure you hide the rest of them under the furniture. Secondly, this is not a sport for the timid, you must be willing to barrel through other cats and household items in hunt of the sparkle ball.

As with any athelete it is important to recognize your faults. Mine is the Meezer Kitten. For some reason Latte is MUCH faster than me to pounce on the ball. Granted, he only plays have the sport- the pouncing half. But dag nabbit he is so fast I can never get from the Lap Lady to the ball before he does. After he's had the first "kill" he walks away and then I practice my agility by tossing the ball high in the air. There are extra points for flair and style. Lastly, you must return the ball to the throwing machine (any human who is bored will do) close enough so they will pick it up and throw it again.

So there are a few tips from an expert. Any questions feel free to ask! I only charge a can of stinky goodness an hour and I'll be happy to get you competing right away!