Alright, so you all tagged me when the computer was away and I couldn't respond!! I want to play but I think you've all been tagged by now so I'm just going to post the 5 crazy things about me. I've been tagged by my good palls George, Tipper, Max & Misty, as well as, Sheezix.

Post 5 weird things/habits about yourself. Choose 5 cats to be tagged and list their names. The cats who get tagged need to write a blog about their 5 weird things/habits, as well as state this rule clearly, then tag 5 more victims. Don't forget to leave your victim a comment that says "you're tagged!" in their comments and tell them to read your blog.

1. I growl like a dog. I feel this gets me the most attention when I am trying to get another cat to play with me. I start by huff-snuffling with a toy in my mouth. Then I walk by the other cat and start to grrrrrr. The Lap Lady says I sound like a Jack Russel. I also sit when told and play fetch.

2. I take snuggling VERY seriously. First of all, you must purrr as loud as possible. Then you must plant yourself either in someone's lap or under the covers with them. I have to get as close as possible and I rub all over them. Really, its more of a weakness I have.

3. When playing with wand toys or feathers I calsp my claws together. It looks like a person who is praying with interlocked fingers and the Lap Lady just thinks its so funny. I generally use my paws as hands and I don't understand why I can't open doors...yet.

4. I have no sense of self preservation. If the wand toy leads me head long into a bench (such as last night) I care not for my safety, I care about catching the toy. I will fly through the air without a care. It may hurt when I fly into the wall, but I HAVE to catch that toy!!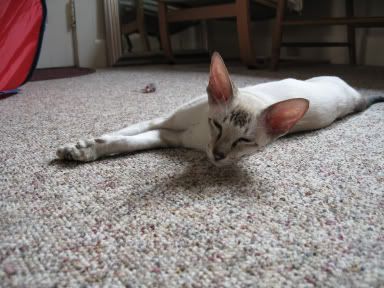 5. My ears are so big that I look like Dumbo when the sun shines through them. See for yourself.