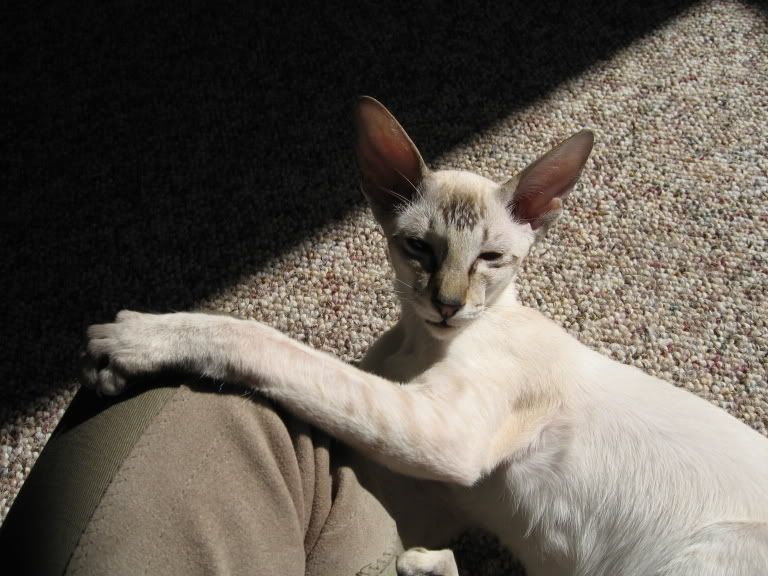 I've found that if I Merrow really nice and loud then the Lap Lady remembers its time to give me my medicines. I don't really know what they are but they taste like wet food and thats great with me! Whenever Lap Lady goes anywhere with a sink (the bathroom too!) I run in there, get between her legs, look up at her with my pretty eyes and say MERRROW! I've got her trained pretty well and its only been a few days. I've found the sink is the key to where the medicines come from and the bowls she puts them in.

I've found a better way to play with the Lap Lady and the sparkle balls. Sometimes sparkle balls are wiley and they go under the bookcase to take a nap where I can't get them. This is when the Lap Lady needs to come over and fish them out. I try to help but only she has the extra long paw with an extention to be able to get them. When she wakes them up she usually finds a few of them together. Then the hunt is on! I kill one in my mouth really fast and then pounce on the other one. Of course, I growl a lot so everyone knows about my great hunting skills.

Last night as I was trying to update my blog I jumped on the tall man (he always has the laptop) and my claw got stuck under a key the :; key to be exact. Off it came flying to the floor. He was pretty annoyed but he got it back on. I made sure to keep jumping up near him so he knew it was my turn. I brought him sparkle balls to revive but he didn't want to play. Eventually I just purred on him and he gave up and pet me. Works every time.

I think I scared the lap lady in the middle of the night. I had decided to be stealthy kitten and I was snoozing on her chest. But I didn't do my usual purr to announce myself so she didn't know I was there. She woke up and looked me right in the face (I was 2" from her nose) and jumped a little. I've found her chest is warm just like her lap. But then I started to purr really loudly and I had to leave 'cause I keep them awake. Hey, I'm trying to be stealthy, I'm trying here!