PLAY WITH ME!!!!!!!!!!!!!!

Stupid Lap Lady has been spending her nights cooking now. She doesn't sit on the couch so I can't sit in her lap. She's been giving me lots of extra love and pets but I'm still not convinced that she's doing enough. She does carry me around with her everywhere because she misses time with me. Its nice to ride her shoulders all around. I'm giving her lots of purrs and she gives me lots of pets so I guess its working out well.

I hope you have a really nice weekend! The beans are up in the attic shop-vacing and cleaning out all sorts of stuff. The roofers dumped a lot of stuff through the roof beans so there is dirt and shingle bits everywhere! At least its not horribly loud.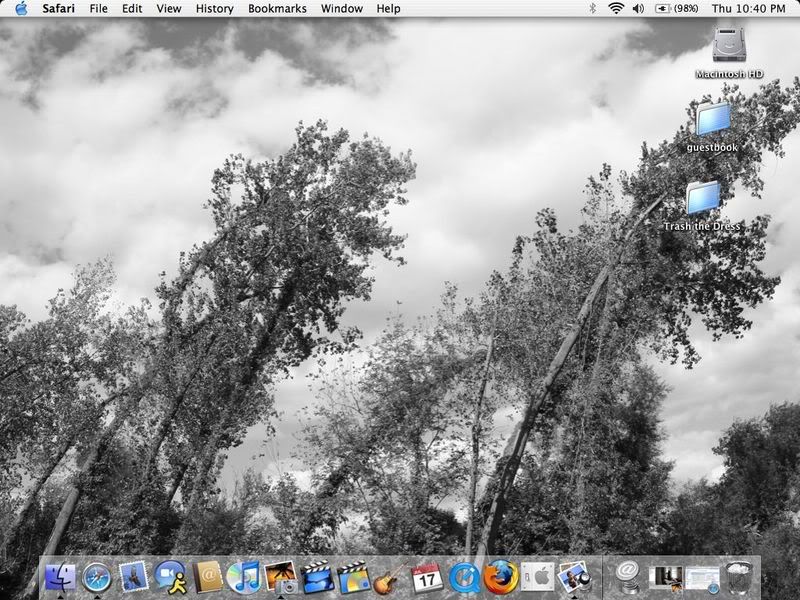 I've been tagged for the screenshot meme. Chase did the LL's work computer and I get to do the home computer. Thanks to Tripper who actually really helped me figure out how to get the screen shot on a Mac! Thanks for forcing the LL to learn how to use her computer! Anyway, these trees are at the Palmyra Nature Cove. They really are sideways like that. Its a park on the Delaware River that is currently being dredged into with the river spoils. Its a beautiful place except for the herds of VISHUS DEER. Hopefully the dredging doesn't change it too much.

Here are the meme rules:
Upon receiving this tag, immediately perform a screen capture of your desktop.It is best that no icons be deleted before the screen capture so as to add to the element of fun. Here's how you can do a screen capture:

1.Go to your desktop and press the Print Scrn key (located on the right side of the F12 key).

2.Open a graphics program (like Picture Manager, Paint, or Photoshop) and doing a Paste (CTRL + V). If you wish, you can "edit" the image before saving it.

3.Post the picture on your blog. You can also give a short explanation on the look of your desktop if you want. You can explain why you prefer such a look or why it is full of icons. Things like that.

4.Tag five of your friends and ask them to give you a Free View of their desktops as well. I tag: If you want to go ahead!!

5.Add your name to the list of Free Viewers with a link pointing directly to your Desktop Free View post to promote it to succeeding participants. Others who have played:Francine of La Place de Cherie Chez Francine Bloggishi Unchained Melody LadyJava's Lounge Mariuca Revellian Dot ComDesktop Emila's Illustrated Blog Spiff, The Spaceman Rolando Brown Baron The Kat House MAX Mother's Home! I Was Born2Cree8 Skittles' Place Faz the Cat Sweet Ariel The Cat Realm