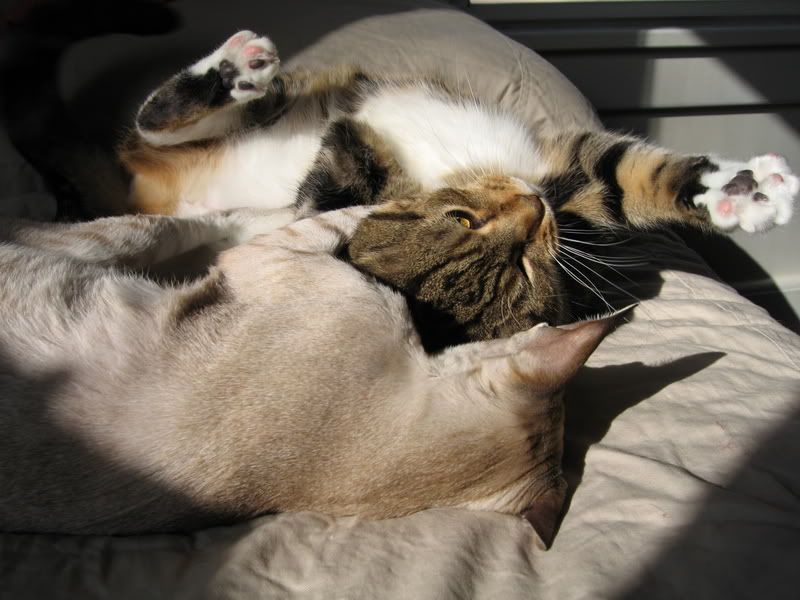 Thirteen Things I like about my brother Chase
1. He is really fun to play with! He is always up for a game of chase whenever I want to play.

2. His fur is thick so I can bite him hard and he doesn't complain like Latte does.

3. He likes the Tall Man and not the Lap Lady. The Lap Lady is MINE!!!!

4. He always gets blamed for stinky poos.

5. He always gets blamed for yakks.

6. He is really warm and comfy to lie on top of. Except he doesn't like me to lie on top of him. If he's sleeping sometimes I can slip in there and he won't care.

7. He makes cooing noises and they sound really cool especially since he's such a Big Man Cat.

8. He's hilarious to watch when he's nipped out. He goes crazy for the nip and gets all crazy and weird.

9. He doesn't realize I'm a girl. Well, at least he never puts the bitey on my neck in that special way....

10. He alerts the People whenever I am in trouble. If I'm locked somewhere he leads the Lap Lady over and points to where I am. He's a great care taker.

11. He doesn't try to take my toys. He is content to watch me play with toys from a distance.

12. He's really popular with the visitors so he takes the stress off of me when people come over.

13. Even though I'm his least favorite member of the family he always finds a way to interact in a positive way. He's never been mean to me unless I've deserved it. OK...I deserve it a lot. He's so much fun to attack!!!