Thirteen Things I love about my brother Latte: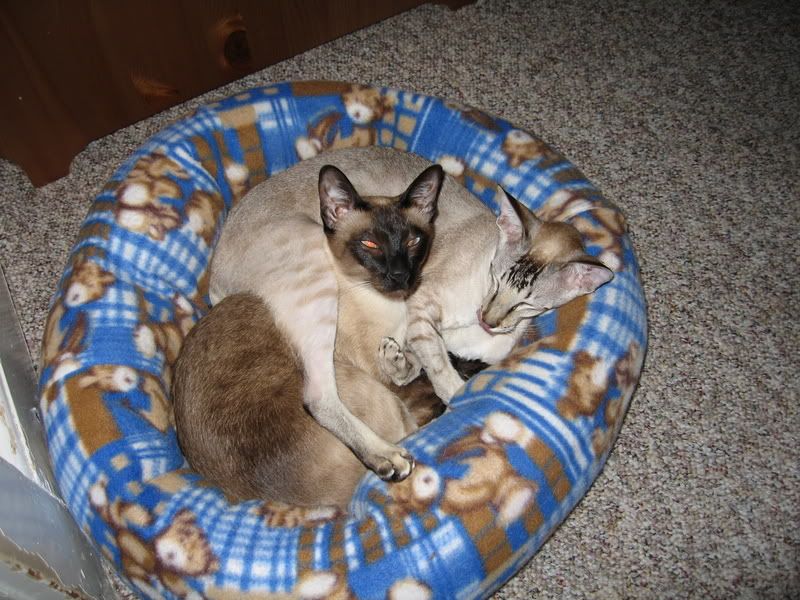 1. He loves to snuggle and doesn't mind when my legs wrap around him.
2. He's great to play with. He runs really fast and he tackles really well. We have all sorts of games we play together.
3. He always lets me have the first turn with the wand toys (or the Whirly Bird). I think that is very noble of him.
4. He's cute. I can say that about him, right? Especially when he's in the sun.
5. If he can't find me he starts yowling for me. He's not much of a talker so I think he must really like me.
6. He gives some really great ear baths. Its hard for me to reach all of my large ears and he's always up for helping me out.
7. He hunts the bugs in the house so I don't have to. I don't like bugs.
8. He's devious and the Lap Lady likes to laugh at him when he's plotting his 3am antics. Even though he always gets me tossed out of the room with him.
9. He loves Temptations and he's always begging for them and we all benefit from that.
10. He's shown me some great ways of getting fresh water- mainly out of the bathroom faucet/sink.
11. He is very very brave! He actually likes to go out in the stroller or his harness and explore. I cry for him when he's out there but he always comes back unscathed.
12. He never tells on me when I
steal
aquire items from the trash can to play with.
13. Without Latte I would never have been invited into my forever home. The Lap Lady would never have met my breeder and would never have wanted a 3rd cat to "keep him busy".